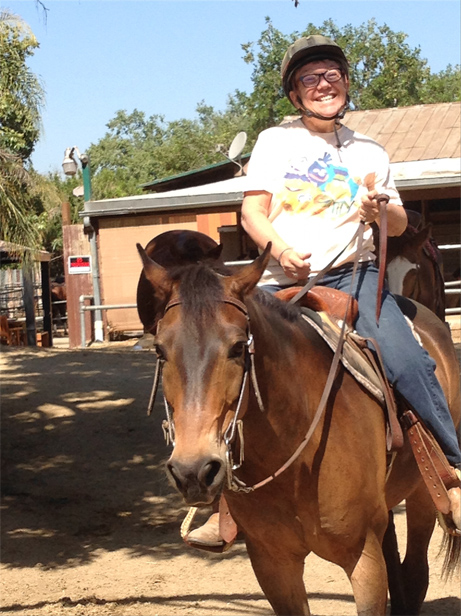 Classes Meet Everyday At 8:30 A.M. Except for Wednesdays and Thursdays
Go to LA Horse Rentals At 1850 Riverside Drive, In Glendale and Get your horse, You will then be guided out to the field to begin your class.
Students can sign up for a 4 week class anytime. There is no beginning class so one can join any available class. Class sessions are 45 minutes long. Students will get on their horse and ride to the Eastern field, about ten minutes ride, so the instructor will start an approximately 8:45 a.m. and last until 9:30 a.m.
Safety helmets and boots are required in the classes. The best place to buy new equipment is The Broken Horn. A good resource for used boots is Out of the Closet. There is a tack store on the premises that sells riding helmets at a good price called Trickee Tack
The students learn how to adjust equipment, how to control the horse at the walk, jog, posting trot and eventually, the canter. After learning the basics the focus is on the transitions between gaits. The classes are not taught in a ring (corral). The students ride on the trail in an open field.
The classes have students of varying abilities, everyone learns at their own pace. Each student's needs are considered when selecting the horse for them to ride. There are two teachers for each student, the instructor and the horse. Each horse will teach the rider something different.